Gigography – Travis
Gigography – Travis @ Singfest, Fort Canning Park, 2 Aug 2008
Warning : Travis over-indulgence :-p
Note: Double posting of pictures for those who cannot view the bigger version
I am so excited to watch Travis – missed their double bill with Coldplay in S'pore in 2001, for no valid reasons…I should be kicked in the back for that ……after all I was studying in Skudai at that time, so it was sooo near

But hey, no need to regret the past eh…I'm having the chance now!

Travis is the headliner for Day 1 (it's a 2 day fest), so they'll be the last to perform on that day. They're slated at 10.30pm, so I'm not planning to come too early, although the festival starts at 2pm.
I've planned to meet Guilt-Stricken (fellow boardie at Muse Malaysia messageboard) at the fest site to watch Travis together..it wouldn't be fun to watch alone ! But she's coming earlier with her sister & sis' fren at around 4.30 pm
I went off at 7.40pm, took the Bugis MRT to Dhoby Ghaut. Then took a free shuttle bus, specially chartered for Singfest from Dhoby Ghaut to Fort Canning Park. Finally arrived at 8.30 pm – when Lostprophets (Lp) was performing. Guilt Stricken was already there, and I'd meet her after the Lp set. I just stood at the back, but since the stage was down the slope, I managed to get a good view of the band. There's also a giant screen there for those at the back to see.

Then, I met up with Guilt Stricken- a really sweet person :-)


Me & Guilt Stricken @ Liz
She grabbed some food, while I got a mineral water (small bottle for SGD2 !!!). Which brings me to :

Tip # 1 – Just bring your choc bar & mineral water into a gig. You'll need lots of waterThe organizers didn't even check my bag, Guilt's also, although she came earlier at 5pm
The anticipation is getting more tense. After Lp, SP (Simple Plan) performed. Both Lp & SP had loadsa fans……I wonder if it'd be the same for Travis ? A part of me hopes not, that the crowd was just there for the other bands, and would disperse after, letting me get closer to Travis :-) But a part of me does hope that Travis still have a strong fanbase, or else, they may skip S'pore next time. It's the best chance of me getting to see them live

Anyway, after SP performed, the singer said that he's going to the merchandise booth, so a lot of the fans ran & left the pit. That gave us –me, Guilt, her sis & her sis' friend to go more to the front. We got quite to the front, but not at the frontest though, but the view was quite good.

I felt we waited really long for Travis to appear on stage. Finally I think it was at 11pm when Travis finally emerged ! They started off with the rocky Selfish Jean from their last album, The Boy With No Name.

Franny was really funny & sweet, he chatted a bit at the start of the each song. Since I recorded the intro to all the songs (to compile the setlist, it would be weird if I wrote them down), I had Fran's banters in my recordings, yeay ! I'm putting them down here : (although there are parts I couldn't really decipher as he has this thick but lovely Scottish accent :-)


Fran ~ singer, songwriter, guitarist, occasional pianist
L-R: Neil, Fran, Andy
Dougie ~ bassist & occasional singer
Andy ~ guitarist & banjo-ist (no such word lol)
Franny again

Here is the setlist :
1. Selfish Jean
2. Eyes Wide Open
3. Writing to Reach You
4. Pipe Dreams
5. Beautiful Occupation
6. Side
7. Love Will Come Through
8. Closer
9. Sing
10. J Smith – new song
11. Something Anything – new song
12. Long Way Down – new song
13. Song to Self – new song
14. As U Are
15. Driftwood
16. All I Wanna Do Is Rock
17. Turn
Encore
18. Flowers in the Window
19. Slide Show
20. Why Does It Always Rain On Me? Pogo style lol
Highlights:

1. Andy climbing the pillar while playing guitar on All I Wanna Do Is Rock


2. Dougie strumming the guitar & Andy playing the chords for Fran during Flowers In The Window, & the band being together in front of the stage singing the song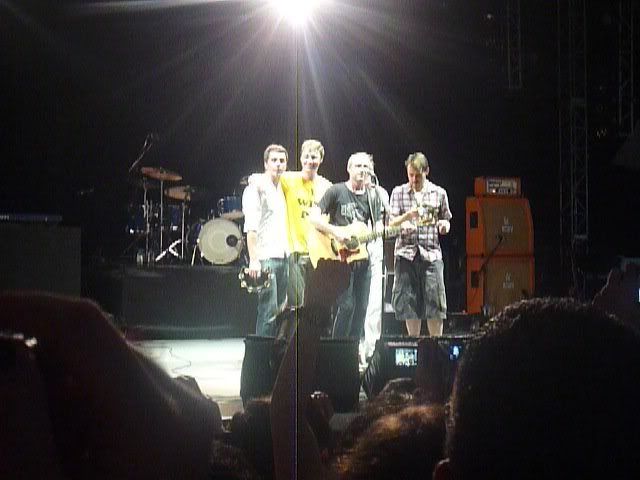 3. Fran playing guitar while standing on Neil's drumset & jumping off to the stage on Side
4. Fran stopped playing & calling his guitar tech saying his guitar sounded like putting strings on a shoebox lol on Pipe Dreams
5. Why Does It Always Rain on Me? Pogo style after the chorus
6. The 4 new songs from the upcoming Ode to J Smith, to be released in Sept
7. Guilt Stricken's highlight was "Turn" . I quote her : There's just nothing like singing "I want to live in a world where I belong" loud and clear like you meant every word of it.
8. I somehow totally missed this - they played (audio) of "Do Re Mi" from the Sound of Music before "Selfish Jean" Noticed this when I was viewing back the videos on You Tube

Fran's banter :

Pipe Dreams :
Hey, how are u doing? It's a warm night.
(Teasing) : I'm spying on you, there's no escaping..

Already started playing, then suddenly stopping :
Woah woah, wait, wait. It sounds awful on stage, I'm really sorry
(Talking to his guitar tech) Could u come here a sec?
U know, it sounded like u have a shoebox & u put an elastic band over it (referring to his "awful" guitar sound )

Love Will Come Through :
It's not a patient world – everyone can't wait for anything
We don't live in a time where we can wait & I'm just as guilty as the next person
This next song is about waiting for something that's worth waiting for
Shallow things that we want quick that are bulls*** are not worth waiting for
But really important things like love & companionship are stuff that are worth waiting for

Sing
U are going to be 43 (referring to S'pore)
We saw these aeroplanes – fighter jet flying about today – My God, impressive…
These guys are good show off
I'm thinking these guys (referring to Singaporeans) are meticulously tidy, shoes here, stuff there (while doing action of arranging stuff prim & proper)
Anyway, we'd like to dedicate this song to the celebration (referring to S'pore's National Day) for about 7 days to go
For one week's time – think about this song

J Smith
Nobody would have heard this song
Unless you're a hardcore Travis fan (Note: Yes, I know this song, yeay! )

Song to Self
Is it just me or is it so hot? (referring to the warm weather)
But it's so wet (while wiping his sweat)
I know I know, it's Singapore !!

Driftwood
U know there's a fire backstage, but don't worry. It's too damp for anything to catch fire (again referring to the hot, but humid weather)

All I Wanna Do Is Rock
Before starting:
This is our first song we played together
It's like it has 3 chords
It has a good message too

After ending (where Andy climbed the pillar while playing guitar)
Fran puts on fake American accent, saying to Andy:
Dude, you're so awesome man
U went up the stack man
U were like doing it man
Those people (fans) were just playing for your plug? (not sure) man
U rock man

Why Does It Always Rain On Me ?
That's the thing with festivals (referring to the dragged schedule)
Time accumulates, from minutes becomes hours
I hope u get home safe tonight (it was already 12.30 midnight)

Anyone coming tomorrow ? – U get a weekend pass
There's Pussycat Dolls (PCD), Alicia Keys is playing
I actually would like to see PCD, I want to see what the fuss is about (I think he's being sarcastic here)
Dougie chips in: I'd like to see Rick Astley (80s pop singer, who's also playing the next day)
Fran again: U never know, I'm gonna go back to the hotel tonight, I'm gonna, hello ? (I think he joked about calling to see PCD)

Starts song.

Then halfway through, Fran says :
I need everyone's cooperation yeah
No problem with people in front here
But what about the people standing at the back there?
Hello ? (Talking to the people at the back) The people at the verandah back there, & those leaning at the stand (waves)…
Hello ? Can u hear? Do u have ears ? (being sarcastic again)
(When he got a response) Yeah there, & up there as well at the verandah, can u hear me? Yeah?

OK listen, on the back chorus,I want a biggest ever pogo OK?
Do u know what a pogo is?
It was invented by the cavemen, the first ever dance, invented 25 million years ago
It's basically jumping up & down, on the play of chorus yeah?
Everyone then did the pogo & sang along to the chorus of WDAROM? What an awesome closing!!!

****

The gig ended at around 12.30 midnite. So technically, it was on 2 days :-)

Some lucky fans stayed around a bit & managed to catch the band's van leaving the place at around 1.15 am. They got to take pictures & autographs. I'm a bit sedih that I didn't manage to meet the band, but at least I get to watch their awesome gig !
Come back again, soon!
Labels: Gigography