Gigography : Kasabian
MTV World Stage, Sunway Lagoon, 15 Aug 2009
More than a month ago yeah, but I didn't want to post this earlier.
So the story went something like this:
I was lucky to get a pass from fellow Muse boardie, Faz's fren - Zuha. I was already telling the other fellow boardies, Liz & Deb to have fun at World Stage. Then just 1 day before the show, Faz texted me saying her friend had an extra pass! (Red Pass). You cannot buy tickets, you have to win the passes by entering competitions.
So what's this World Stage thingy? Organized by MTV, it's the first time they have it in SEA. Read more
here
. The line up?
Estranged
Boys Like Girls
Raygun
Pixie Lott
Hoobastank
All American Rejects
Kasabian

I was there to catch Kasabian actually. Read more about Kasabian
here
They didn't announce the line up schedule, but I was hoping Kasabian would be the headliner. You can guess this from the promo posters ;-)
Before going on with the gig, here's a link to the
press conference
prior to the show.
And here's
Kasabian press conference
Oh, drummer (Ian) & bassist (Chris) already arrived the week before, Tom & Serge were stuck in Australia (quarantined for suspected H1N1)
Also, The Star's 5 minute interview with Kasabian
here
An interesting interview with Serge
here
Here's the
Photo call
So back to the story. We arrived at around 6.30pm when
Boys Like Girls
were playing. (We missed
Estranged
). It was also drizzling. We then moved into the crowd after eating, then it was
Raygun
next.
Quote from Liz (fellow gig mate) on Raygun
:
Was ridiculously poppy (imagine flowers of all colours lined up by the lake, nodding and swaying to the wind, like catching sunlight in a jar) that's what you get (actually I think that sounded more like a compliment, I don't think I intended it to be though lol). It felt more ridiculous watching that music video of Raygun, Just Because, repeatedly (during intermissions) and that lead singer
(found out later that his name is - brace yourself -
Ray Gun
)
is totally frolicking around with his car...?
Me: I actually liked
Raygun
's songs :-)
Next was
Pixie Lott
. Again, quote from Liz:
Aww, she was so cute! All dolled up in a feathery dress
Hoobastank
came up next. Liz:
A big boo boo to the sound system though, just when Doug was about to launch into the whole male/female crowd cheering part. When the mic wasn't working, I half expected them to stop immediately and start the song again since it's for recording purposes...but nope, they just carried on and pretended it didn't even happen. That should be the way!How adorable was that cover of GHOSTBUSTERS!? Doug calling us ridiculous for screaming out loudly to that song, which he apologized and took back his words. So much energy though these guys. Crawlin' in the Dark was actually a lot more fun for me than The Reason haha. I guess it's because the girls next to me were SCREAMING so loudly to The Reason. I had to strain my ears very hard to listen to Doug's vocals in this number coz the crowd literally became one with his vocals. It was interesting to observe
Then came
All American Rejects (AAR)
- they were the main attraction for the majority of the crowd.
Deb on AAR:

I'm happy I finally got to see All American Rejects. Had a fun fun fun suuuper fun time singing along to all their songs haha!The songs AAR played were1. Dirty Little Secret2. I Wanna3. Swing Swing (super old skool. didnt think they'd play this )4. The Wind Blows5. Real World6. It Ends Tonight7. Gives You HellI'm surprised they didnt play Move Along! Tyson's voice was really squeeky in real life, and he was acting a bit crazy. like he was high or something. All adds up to the energy i guess. couldnt really listen to them because the people around me (myself included) were singing word for word to their songs!
And finally...the band I was there for!
Kasabian
Once AAR was done, thousands of people left, gotta thank them becos I was able to get into the mosh pit for Kasabian :D The bouncers opened the barricade of the Red Zone at the left side of the stage, then asked us (myself, Zuha & sis) to go to the Mosh Pit, it was ridiculous that people were sitting in the pit when Kasabian were on!
Liz:
I was appalled when the crowd started leaving after AAR's set. I gave them all WTF looks lol. Do they not know they're in the running to win that Mercury Prize? But ... I owe them thank yous because we managed to get up front for Kasabian's gig too! Though only in the Red Zone area (and so was Deb)
Deb:
Tom Meighan (Kasabian singer) looked sooooo different with his short hair! Could hardly recognize him to be honest. I had to ask my friend whether it was him or not lol. Before going for MTV World Stage, I had no idea what songs Kasabian sang, and now after going for the gig, oh man, they are soooo good! Practically every song was mosh-able and jump-able, though i didnt do anything as i was already damn exhausted by then, so i just head bopped. Quality live performance from Kasabian, especially if you compared them with the rest of the bands. They all fail in comparison IMHO.Tom Meighan, omg, he's just so smooth isnt he? So comfortable on stage, its ridiculous. They make it look so effortless, and that they're just there to entertain with their music, not with their stage antics. I love that. Puts them so much higher on the so-called MTV World Stage "hierarchy".
Liz:
Yeaaahh I noticed the short hair too! He...kinda reminded me of Rick Astley for one tiny moment, but then after he started singing... well I wouldn't call it singing actually he literally blew the crowd away! haha :S Phrase of the night is definitely, "I'm still alive!!!" in regards to his recent H1N1 quarantine!
Me:
Yeah, he does look like Rick Astley with hair slicked back & shades. But the neatness was gone by the middle of the set (by "Fire" actually), shirt already tucked out. (Unrelated trivia: He wore blue suede shoes)
Anyway, I thought the sound system was too loud, so it drowned down many of the electronica elements on Kasabian's set. But apart from that, I have no other complaints. The backdrop was brilliant though!
Liz
thought the sound system was good though.
Here's her take:
Get Loose, Get loose! Kasabian is next! Imagine a hierarchy from the ancient [sunway] pyramid times. Kasabian sit at the TOP of that. Kasabian's set was pure quality and trumped each and every other act for that night. They hardly broke a sweat too; these guys were smooth and looked super comfortable on stage. Tom effortlessly belted out "Vlad the Imapler" despite just being quarantined in Australia for H1N1. The next few moments went pass in a blur almost in a trance (lol!), all I could remember was having a GREAT time despite how exhausted I was. The crowd showed no sign of slowing down though, despite the throng of AAR fans leaving before Kasabian went on stage. I cannot fathom how anyone could leave knowing Kasabian would be up next. The lighting was amazing, backed up by the spot-on flashing images as a back drop, all I can do is laud MTV's effort for a stunning stage set up along with crystal clear acoustics. The partial
audio bootleg
that I recorded turned out reasonably ok which goes to show the awesome sound quality from the show before being filtered through my recorder. "Fire" dangerously licked and teased the crowd through a journey all the way to the climax of the song, before burning us all to the ground, literally. Tom was spot on that night, and he did not show a single sign of slowing down, even after performing 8 songs. End it must, however, and so with a man-made volcano eruption blazing up the night, MTV World Stage Live in Malaysia came to an end. While the show and stage is still miles away from the standards of Pinkpop, this is certainly a step forward for the Malaysian music scene. Here's hoping we managed to send the message across the world to other musicians, that Malaysia should not be lightly looked at (read: ignored)

For other reviews:

See
here
for The Star's review
Here
for JunkOnline review
Here
for The Sun review
KASABIAN SETLIST:
Vlad The Impaler (
Live video
)Underdog
(
Live video
)
Empire -live
audio
.Live
video
Where Did All the Love Go? Live
video
Shoot the Runner (Live video)

Fire (My fave) -live
audio
. Live
video

Club Foot -live
audio
. Live
video

LSF (Lost Souls Forever)
with long na-na-na chorus. Live
video
Also video
here

Short set, only 8 songs, about 40 minutes.
All live bootlegs courtesy of Liz :D
All live videos are from MTV Asia site. To view all the videos, go
here
Scroll to the right under "Live Performances"
Edit:
After re-watching the live videos, I simply loved the starting of "Empire" and the guitar duel between Serge & Jay on "Empire" Also, the intense drumming of Ian, especially with the use of the giant gong on "Fire"
Arghh... cringe on the fact that Tom had to persuade the crowd to sing to the
lalala
tune on "LSF". Can't blame the crowd now can we, since there's no airplay for Kasabian on the local radio. (I like it that way actually, so that they won't become overly commercial)
So here are the pix: (Thanks to my Lumix!)
Err..accidentally caught Tom stretching? hehe
L-R: sessionist, Serge, Tom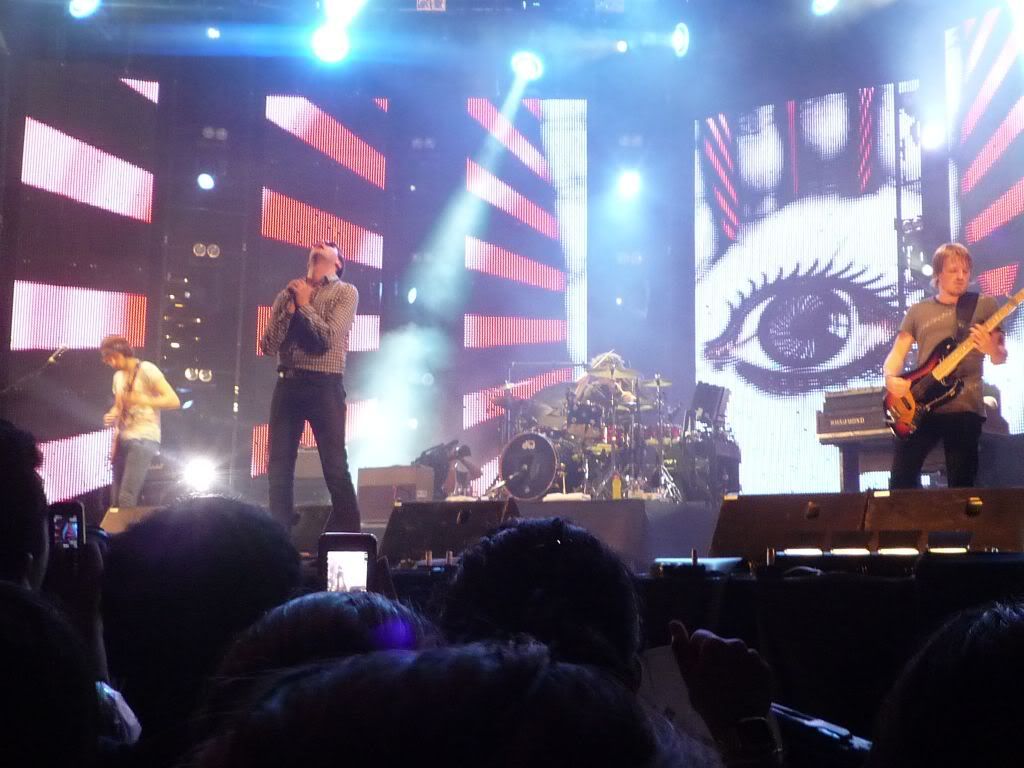 Tom looking like Rick Astley. Now that someone mentioned it, he kinda looked like Ricky Wilson of Kaiser Chiefs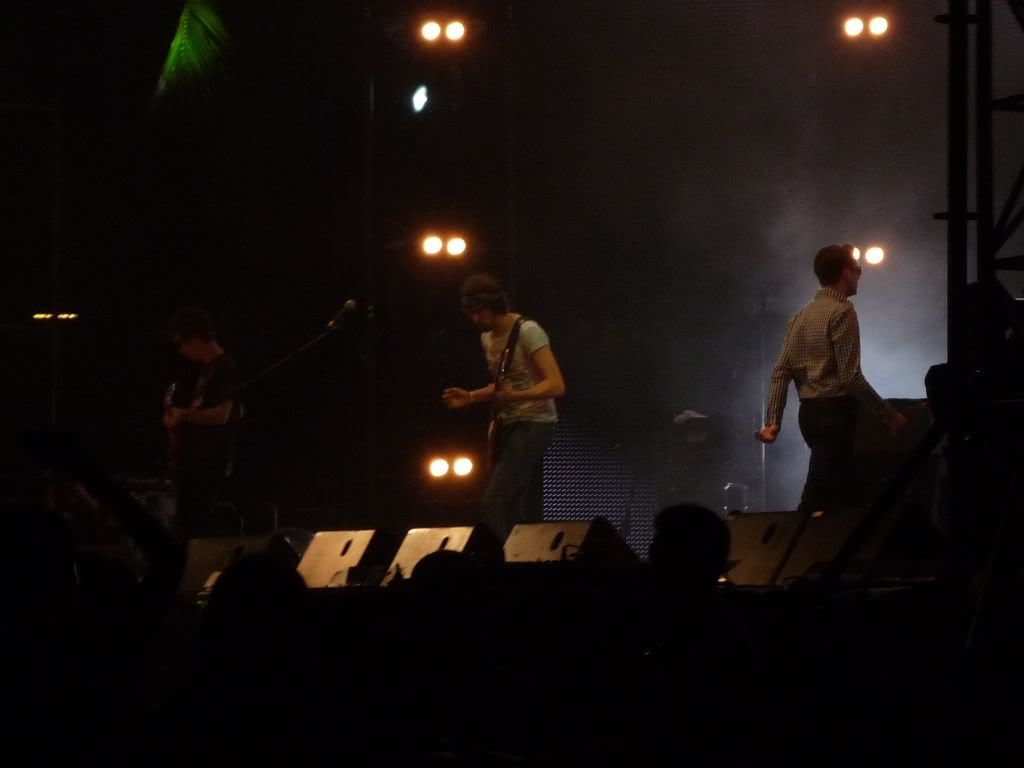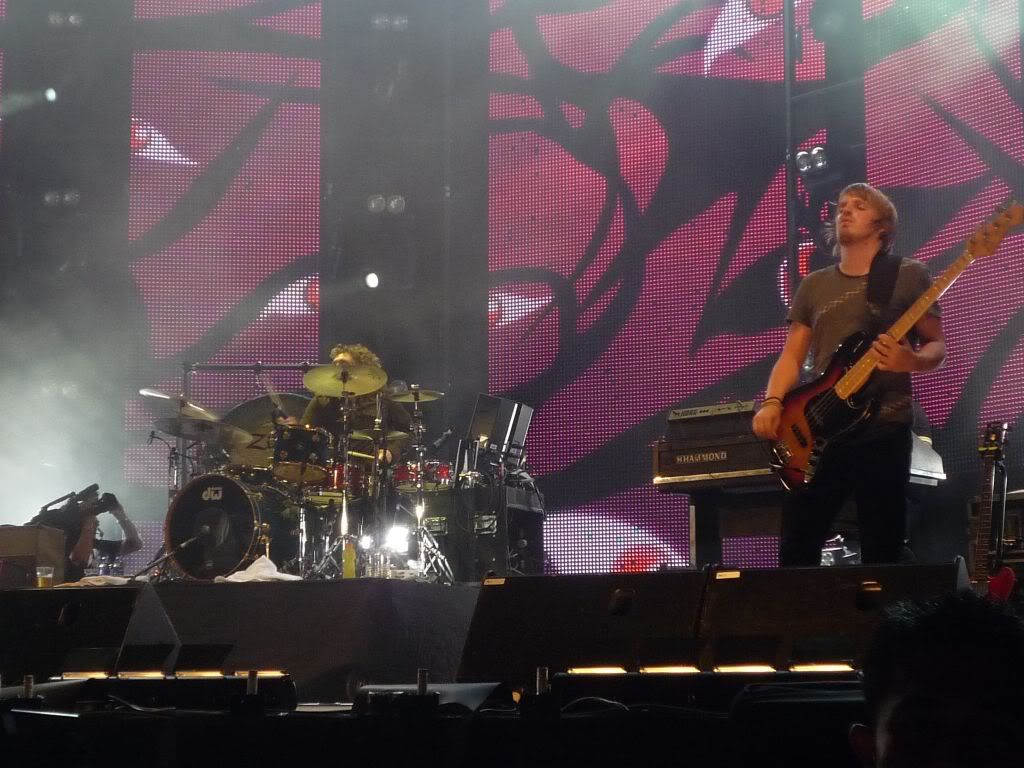 Labels: Gigography