Jamiroquai and F1 chaos, 4-5 April 09
Hello, here's the setlist of Jamiroquai's gig last Sunday. Got it from their official site. 13 songs altogether, quite a short list,but some songs from their earlier albums were extended versions, so they were longer. Too bad, they didn't play Virtual Insanity though :(
THE KIDS
HIGH TIMES
SEVEN DAYS IN SUNNY JUNE intro
ALRIGHT
LITTLE L
BLACK CAPRICORN DAY
CANNED HEAT
USE THE FORCE
TRAVELLING WITHOUT MOVING
COSMIC GIRL
SPACE COWBOY
LOVE FOOLOSOPHY
Encore:
DEEPER UNDERGROUND
Here
's a review of the gig.
Agree with Faz on Jay Kay's dance moves, that reminds me of Miele's fren, Izmir's comment : Jay Kay punya kaki macam anak pony LOL! I said to him, err pony is already anak kuda, what do u mean by anak pony? Like a pony's baby? :p LOL! And for pix,
here
's a link
Me & Miele were quite at the back, so most shots I got were not up close. Better look at those pix in the link ;) Some of my better shots: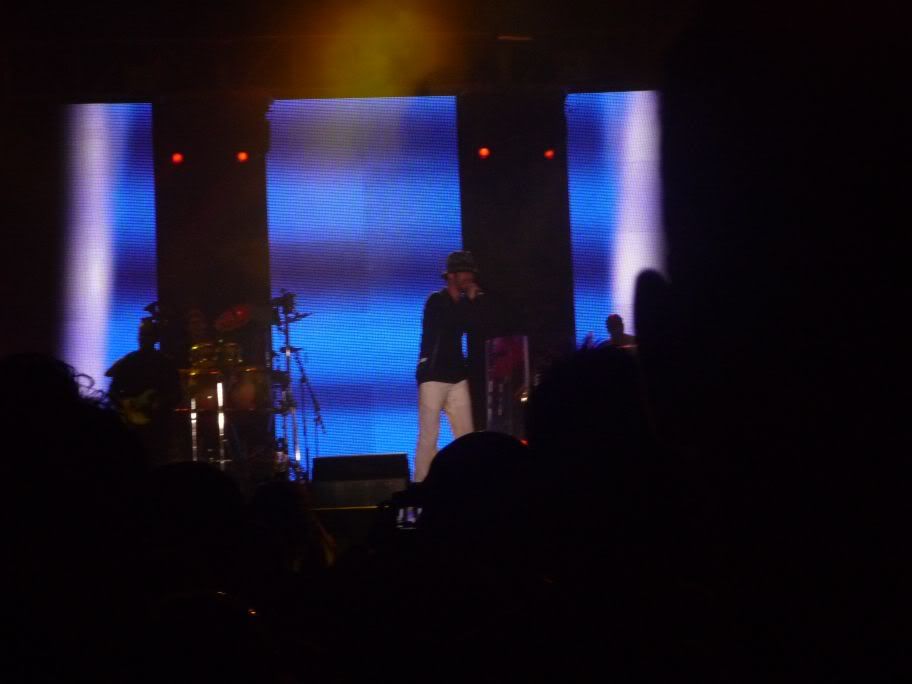 Btw, the gig ended around 11pm, then went back, reached home midnite, then re-watched the race on TV LOL! I was really blur on what actually happened on the track :p

As we all know, the race was red-flagged halfway into the 32nd lap due to heavy rain - most of the cars had spun & visibility was poor. Our hillstand seat had already become a muddy waterfall!

It was about an hour's wait for the decision whether they'd continue the race or not. So while waiting, some Mat Sallehs (we figure were from Finland becos they were supporting Kimi) were doing mudslides down the slope! (they probably missed snow sliding?) And they brought inflatable floats for the mudslide! People were cheering for them LOL!

And some folks on the left side of the hillstand (from where I was) started a Mexican wave, so all at hillstand followed suit. People at the more 'posh' Grandstand were probably thinking what a crazy bunch of people there at the hillstand :p

Anyway, yeay for Liz becos Nick won 2nd place :) So sorry for Faz though cos Kimi didn't get any points. But then again, the winners were only awarded half of the full points, so not too far for him to catch up eh.
Labels: Gigography