Gigography: Manics, Fort Canning Park, 24/11/08
Warning: Manics over indulgence ahead!

Yes, finally I got to sit down & write this. It's been more than 2 weeks, it may be stale already :-p

So, finally we (me & friend, Miele) got to see the Manic Street Preachers (aka Manics or MSP) for the first time ever here in Singapore ! (Doesn't matter if it's not in Malaysia, we expected it anyway)

Manics who?
Well, if you are interested to know, read
here


I first heard Manics in 1996 while in high school with their song 'Everything Must Go' & 'A Design for Life'. (I must be very old now haha..) I was into Brit bands at that time (still am), and this type of music didn't get much airplay on radio (still not much, except for Coldplay). I thought I discovered them through reading the now defunct Smash Hits (it was a trashy teenage mag – but it did feature some cool Brit bands, & I loved them! ) & also through MTV (watched them in Jakarta, no Astro yet)

Fast forward to 12 years later – to 2008! I was really excited to know that they were playing in Singapore on Nov 24! So I quickly posted a note on the messageboard to find a gig mate & Miele it was!! So glad that I had Miele with me (wouldn't be fun going alone).
Since it would be on a Monday, we had to take 2 days of leave. We arrived Singapore on Sunday & were greeted by our very nice host Nut! Thanks a lot Nut!!!! That night Nut showed us how to get to Fort Canning Park where the band will be playing the next day.
The stage the night before
The next day we went to Fort Canning really early, at 2.30 pm, crazy or what? (show starts 8pm) in the hope of catching the soundcheck. Liz (Travis gig mate) caught one during Ash's gig last month. We equipped ourselves with newspapers & drinks. We passed the time reading the papers until it was around 4pm. Still no sign of the band. We were about to give up to go buy some food, when we heard a familiar riff! – It was "If U Tolerate This Then Your Children Will be Next" (what a mouthful!) Then James appeared !
Can you spot James?
James doing soundcheck. Nicky & Sean not up yet. Pix copied from I-Friday
We tried to get closer to the stage, while I was recording at the same time, but the organizers shoo-ed us away dang! We hid behind the wall & I managed to record the whole of "Motorcycle Emptiness". But then the burly bouncers came to our way again to shoo us away the second time. But we didn't move far, we parked ourselves near the bench outside & I continued recording.
The soundcheck list were :
1. Motorcycle Emptiness
2. Send Away the Tigers (SATT)
3. Faster (brief)
4. Umbrella
5. 1985
6. You Stole the Sun from My Heart
7. La Tristessa Durera
8. If U Tolerate This Then Your Children Will Be Next
9. Kevin Carter (they didn't play this during the actual gig as they wanted to play at least a song from each of their 8 albums, so they replaced this with Ocean Spray, the only song from "Know Your Enemy", their 6th album)
10. A Design for Life
11. Small Black Flowers that Grow In The Sky –acoustic (gave me goosebumps)

We were hoping that Nina Persson (from The Cardigans) would make an appearance for Your Love Alone Is Not Enough. We were pretty sure they would be playing that song. (She guest vocals on the song). We were also speculating if Kylie Minogue would appear on Little Baby Nothing (we were also sure this song would be played) as she was due to perform the next day (Nov 25) in S'pore for her own gig, of course. (No we didn't go, too expensive). She guested once on Little Baby Nothing errr, many years ago.

We had our wishlist song too (but they didn't play neither. I shouldn't complain becos Small Black Flowers more than made up for it):
Miele: I Live To Fall Asleep
Me: No Surface All Feelings

They finished soundchecking around 5.30pm, so we went off quickly to buy some food at Plaza Singapura, just across the road. Came back, ate & then started to queue at around 6.45pm. There were still not many people, perhaps because the crowd were made up of working people, so they hadn't come back from office yet. We were quite in front in the queue. We saw 2 girls with tiger print dress with feather boa & also saw a true blue fan – wearing some sort of a small tiara, a white dress & a feather boa – no guessing on who she's into! Nicky Wire of course! I later found out that she's I-Friday from Thailand. Awesome !!
Since we were around no # 6 in queue, we got right to front of the stage ! Our first time ever to be right in front! We would be right in front of James, to his right a bit though. There was a merchandise booth which sold Manics t-shirt for SGD35, nice design with 2 tigers in the front & 3 SEA dates on the back. I didn't buy it since Miele would be going to Bangkok Rock the next weekend ( 30 Nov) to catch Ash & Manics again, so I asked her to buy the t-shirt there instead. But it was not to be as the Bangkok fest was cancelled due to the airport siege & political unrest in Thailand.

Anyway, back to the gig. There was an opening act – Vertical Rush from Singapore performing 4 songs. Then came 2 DJs from Power 98.fm who threw out 5 signed CDs of SATT to the crowd, but they threw them too far away for me to catch any. Bummer! When the roadie put on Nicky's feather boa-laced mic stand, people started to scream! They couldn't resist it oooohh, neither could I ;-)

Then finally around 9pm, I saw Nicky came first on the stage, followed by James, then Sean. As we expected from the soundcheck, they opened with Motorcycle Emptiness. That made us really psyched up!
Nicky Wire, erm, deep in thought heh
James & Nicky. Sean not visible. He likes to hide behind his drum
kit
We should have brought the Malaysian flag as we could have put it on the barrier in front of us & James would have definitely noticed it! I thought he intentionally shifted his mic stand to the front of me & Miele during the last song so I could record him up close! (*perasan*)
Shifting his mic stand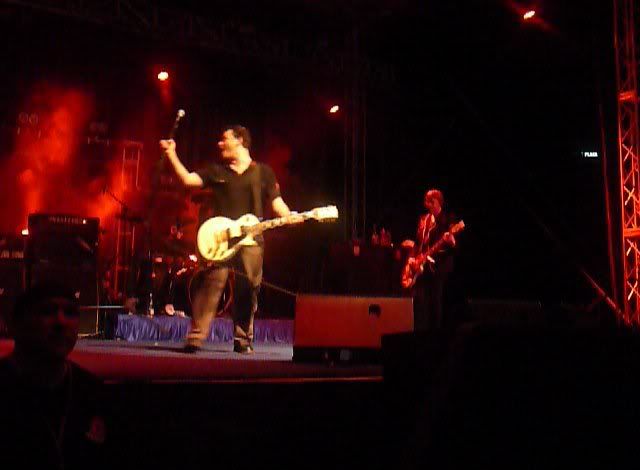 Should I put it here?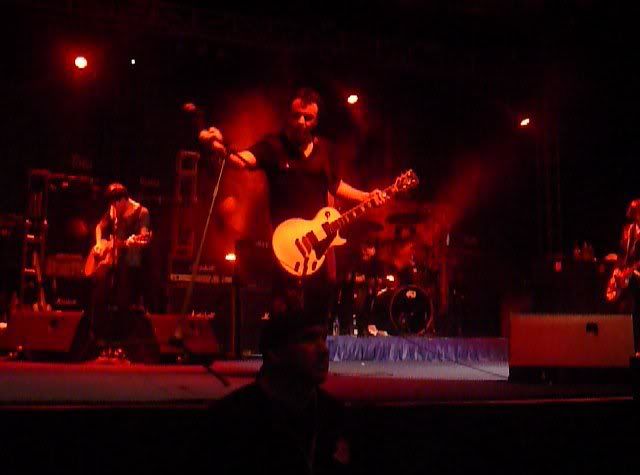 Yes! James shifted to in front of me & Miele!
James, looking a bit like Thom Yorke here. Maybe becos of the eyes. Pix copied from I-Friday
They really rocked & looked like they really enjoyed it although James was really sweaty. Nicky, well, he just had to look stylish, so he kept his jacket on for the rest of the gig, although some people were asking him to take it off. Of course he was beautiful with his glittery silver eyeliner & stomping around the stage with his bass & quite frequently, did split jumps, his trademark. James too were moving about & doing the spin. His guitar didn't work on Little Baby Nothing, but he just carried on singing –what a pro- while the guitar tech replaced the guitar for him. Most of the chorus he didn't have to sing, as the crowd was singing along loud enough!
James also pulled off the female singing part on Little Baby Nothing & Your Love Alone really well.
Guitar not working
Guitar change
Guitar change from trademark white Les Paul
They had extra guitarist & keyboardist who also played trumpet on Ocean Spray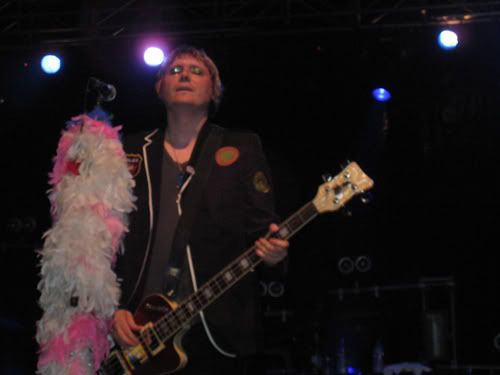 Nicky with his feather boa & silver eyeliner- pix copied from I-Friday
What are they looking at hmmm? Pix copied from I-Friday
Here's the setlist:
1. Motorcycle Emptiness
2. Autumn Song
3. La Tristessa Durera
4. Faster
5. U Stole the Sun from My Heart
6. Everything Must Go
7. Ocean Spray
8. The Masses Against the Classes
9. U Love Us
10. Penny Royal Tea (Nirvana cover)
11. Send Away the Tigers
12. A Design for Life
13. Small Black Flowers that Grow in the Sky (acoustic)
14. The Everlasting (acoustic)
15. Your Love Alone Is Not Enough
16. Umbrella (Rihanna cover – but a rock version)
17. 1985
18. Little Baby Nothing
19. Motown Junk
20. If U Tolerate This Then Your Children Will Be Next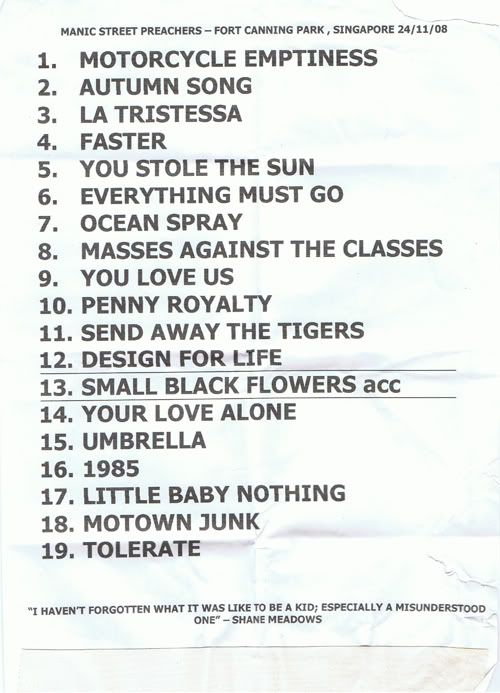 Setlist missing the song"The Everlasting". Pix copied from I-Friday.



James did interact with the crowd, but I didn't catch him, sounded mumbled. But there were a few remarks on how hot the weather was for him, he joked the band should have been sent earlier to get used to the weather like Olympics athlete. When he was introducing Nicky, he made it sound like he was introducing a boxer in the boxing ring, going, "At 6ft 5in (or summat) – Mr Nicky Wire!" He was funny too when introducing his cousin Sean, the drummer, saying something like "Ferrari loving –made sound like 'ratatatatat'– Mr Sean Moore!" During the start of the acoustic set, James said "Just a man with his guitar & his feelings". (*Cair*)
"Just a man with his guitar & his feelings": Acoustic set
It ended all too soon at 10.30pm. Some wouldn't budge & were shouting for more. Miele asked for the setlist from the bouncer in front of us, but he gave it to someone else instead, but I did get a picture of it. When it looked like there was no more hope that the band would re-appear, we went backstage & waited some more, hoping the band would come out & sign some autographs. They didn't come out, but some fans did manage to slip their CDs to the bouncers to pass to the band to be signed. We didn't manage though. Finally the band left in a heavily tinted white van – we assumed they were in it – not sure if it was a decoy though haha. We finally left around 11pm
Truly priceless experience indeed as it was our best chance of catching them since Bangkok Rock was cancelled and they'd be off for a while preparing their 9th album
Labels: Gigography