Gigography: Butterfingers, Istana Budaya sessions
Butterfingers Istana Budaya sessions
Lambang Sari
17-18/01/09
Warning: Butterfingers over-indulgence ahead!

I have been hooked to Butterfingers ever since Miele lent me her Kembali CD. (And I've been playing it to a few friends, sorry ya if any of you didn't really like it heh :-p) It's really infectious, couldn't get it out of my head. And this from a local band, they must be really good!

I admit, I've heard of them during my uni days, knew a few songs, but that was it, I didn't really dig more. So when Miele told us (me & Faz, another gig mate) that Butters would be having a "farewell" show before going on a hiatus, I said yes ;-) It was not just going to be one show, but 4 back-to-back shows on 2 consecutive days, at Istana Budaya!
Session 1: 17/01/09 : 2.30-4pm (free seating)
1996-2001 Unplugged with guest band Bunkface
The queue was not really long, perhaps people were working, but this session was sold out! This being an acoustic set, it had a free seating arrangement. I took some pictures during the opening act performance-Bunkface. But it was announced afterwards that no picture or video taking was allowed in IB, so no pix of Butters performing, sigh..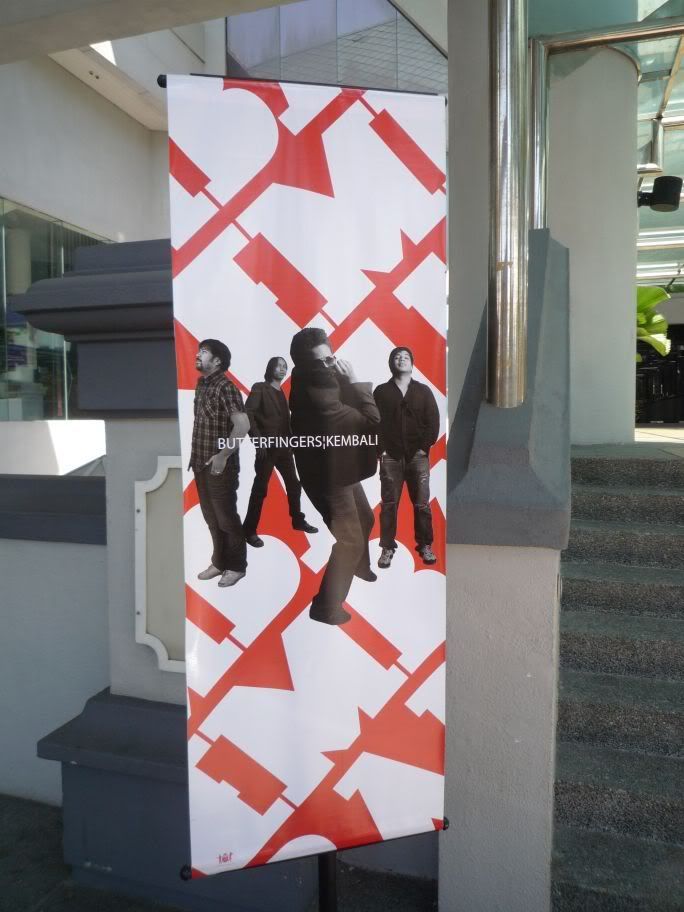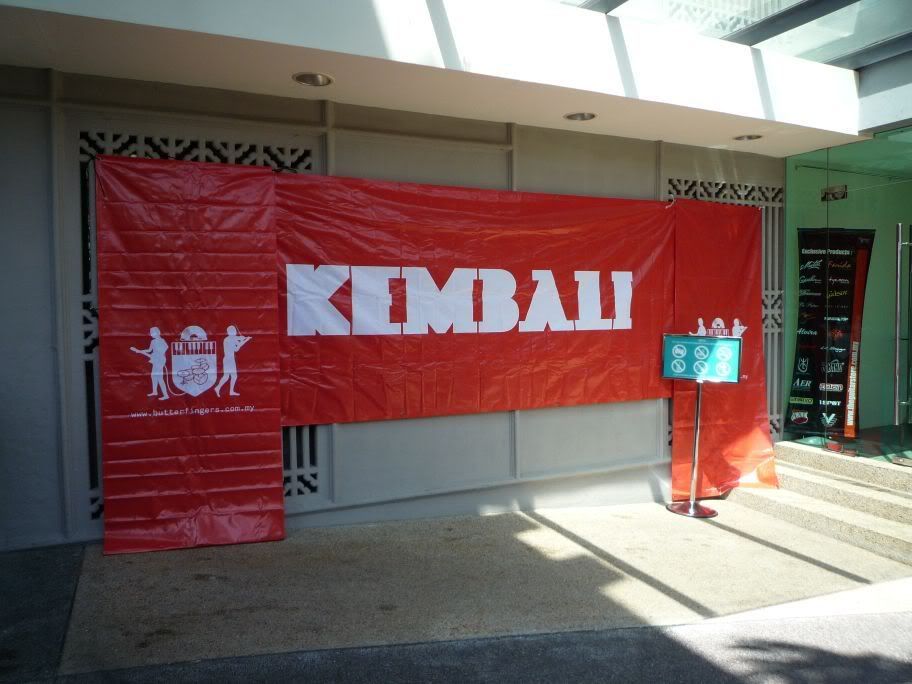 Butterfingers banner outside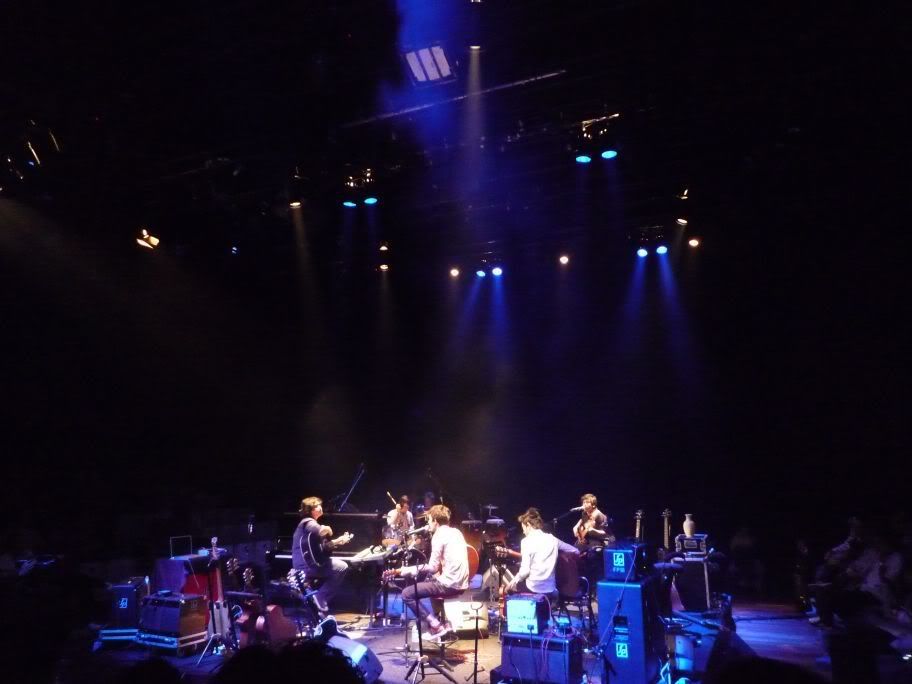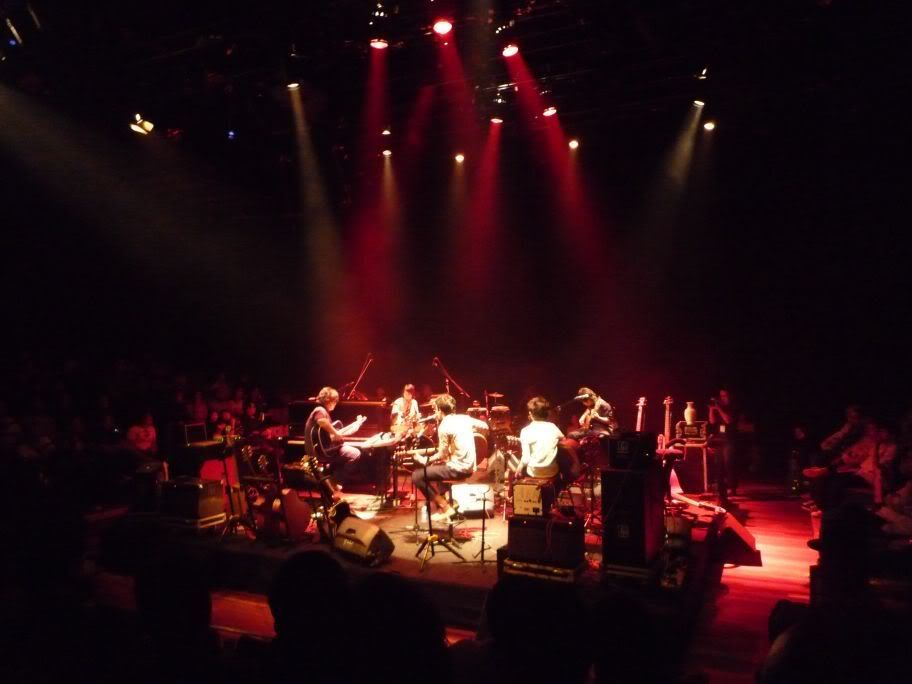 Bunkface performing-before no pix/vid instructions- so no pix of Butters performing :-(



This first set showcased their songs from their earlier albums, which I wasn't really familiar with, but they certainly got my feet tapping & head bobbing! Luckily it was a seated show, so I was a bit erm, restrained heh. Plus, the 3 of us didn't seat together as we had arrived at different times. Faz was sitting behind Loko, the drummer, I'm sure she enjoyed it!

Before the show started Loque (the guitarist, & chief songwriter) requested for a minute of silence (Loque had a slip of the tongue as he asked for "1 saat yang senyap" instead of 1 minute) & Al-Fatihah recital for the victims of the Gaza conflict. (Thankfully the war has been put to a stop by now, and hopefully no more). While on the list of people to thank for making the show happen, he added Bank Dunia (haha funny sarcastic )

It was a fantastic show, their playing was brilliant, complimented by the UiTM orchestra quintet (or as Loque, affectionately called them - Orkestra Gelombang Cuaca Buruk, lol!). Loque also wrote the arrangement for the orchestra. There were a few glitches here and there in the sound system, possibly from handphone interference. So for the remaining sessions we were asked to switch off our handphones as well.

But otherwise, their acoustic guitar playing (& Loko's drumming) blended well with the orchestra, love it! They also had a laptop on, with Loque playing the keyboard for effects. I respect Loque as he's not just content with guitar/piano/keyboards sounds, but dabbled his hands on synthesizers & pro-tools as well. His guitar playing is really skilled too, I was worried he might hurt his fingers with that kind of playing!
Loko was brilliant, love his drumming! (I know Faz absolutely loved it!) as was Dax on the bass, love that he played the double bass too! Emmet played the guitar and violin. Everyone in the band are multi-instrumentalists. As Faz & Miele said, Butters are of international standard, on par, or even higher than some of the international bands around!
I love the setting too, where the stage was at the centre, & the fans surrounding them, everyone could get a good view of the performance. The lighting was brilliant too!

We hung around outside after the 1st show, and then a few moments later the band appeared from the back door, so the fans freely mingled with them. There was not an air on them, we conversed like normal, so it was really cool! Of course there was picture taking with the band as well, and they all relented, really sweet of them! Only setback was that we forgot to ask for the setlist of the 1st show, perhaps we were too overwhelmed by their performance!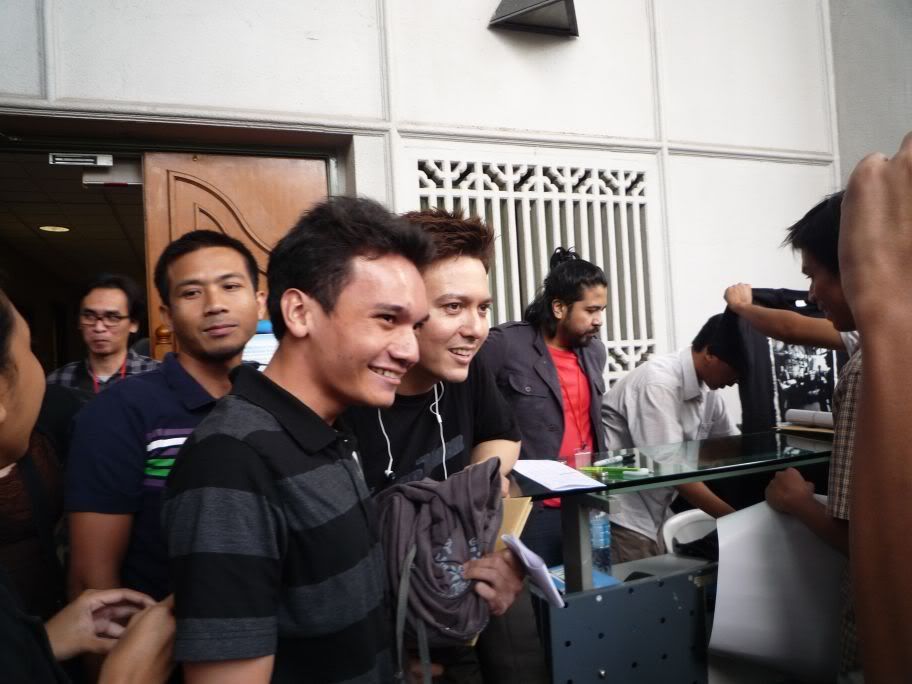 Emmet with fans after the 1st session

Session 2 : 17/01/09: 8.30-10pm (free seating)
Mari Hidup Kembali (sesi gitar kapok) dgn band jemputan Hujan
As the next show was just a few hours after, we hung around at IB. There were more people tonight, maybe some wanted to see the opening act, Hujan. 3 friends of Miele also joined us tonight. This set was again, an acoustic set, so we were all seated. By now we knew where we would get the best view of the band ;-)

For the second set, they played songs from Kembali (which I know, yeay!) & a few older songs (I loved the epic Taman Tasik Perdana).
Here's the setlist: (Haha by now we remembered to ask for the setlist)

What a brilliant aural experience! Like the first show, they were given the standing ovation. Since we were now sitting together (6 of us), so we were a bit bolder (cheering more enthusiastically. Now we were officially known as the "gang taksub" heheh..)
This time around, it was announced that there would be an autograph session after the show. So the fans rushed to the autograph booth, and were pushing around. We had to wriggle our way through to get the band to sign the setlist, but we managed it. ;-) Luckily we had mingled with them earlier, after the afternoon show. It was more relaxed at that time, maybe because there wasn't an announcement, so people just left.
Session 3: 18/01/09: 2.30 - 4pm (free standing)
Transcendence 10-year Anniversary Rock Out
Another round of Butters fest, repeat Day 1 routine. But of course, there's a bit of difference today -it's a plugged session (sesi gitar karan). And we would be standing instead, rocking out to their performance.
Again, we were (almost) first in line, so we parked ourselves right in front of Loque and Emmet. We found out later that there was a bit of distraction here though, due to the cameraman who maybe couldn't figure out that he was blocking our view. (He could have thought to bend or squat a bit).
Another glitch was that Loque's and Emmet's transmitter batteries ran out, so there was an awkward moment waiting for replacement (AAA batteries). While waiting for the batteries, we had a show of a drum solo and shuffling (not at the same time though) by Loko and bass solo and moon walking (also not at the same time) by Dax. Sweet!

Anyway, blocking cameraman & dead batteries aside, the crowd today was more lively, perhaps because we were standing, so it allowed for more movements. But no stage diving, moshing, crowd surfing or jumping around though. We could have torn down Istana Budaya if that was allowed lol!
Most of the songs were from the Transcendence album (it's the 10th year anniversary. Here's the setlist: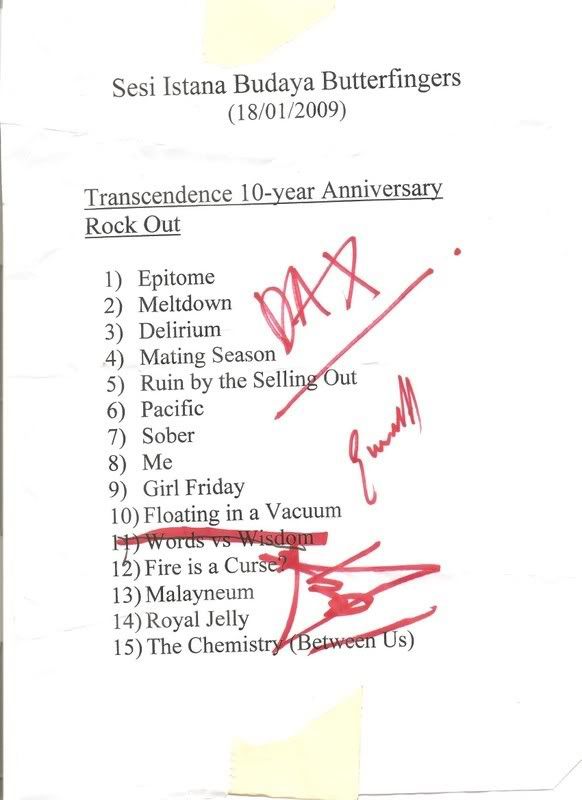 Setlist: Session 3



I was overwhelmed by their performance, I felt light headed after the show. A dizzying experience, but awesome nevertheless!

Another round of selist signature hunting mission after the show, another round of squeezing through the crowd, but it was all great fun! I met up with Ben after the show, but unfortunately couldn't get his ticket signed by the band for him, so sorry Ben! I also met Loth for this set, but before the show. Both Loth & Ben came for the 3rd show only.

As per the 1st day, we hung around IB while waiting for the evening session later. While lepaking at the café, the band and their entourage came around there too, to makan. We smiled at them, and gave a thumbs up & a good show remark to Loque, and he thanked us back. 'Twas all great!

Session 4: 18/01/09: 8.30-10pm (free standing)
Mari Hidup Kembali (sesi gitar karan)

The last session. This would be the climax for their IB sessions. By this time, the bouncers were already familiar with the "gang taksub" faces! We felt a bit conscious about this, heh, so we decided to stand at a different corner of the stage, facing Dax (bass) and Loko (drums) instead
It turned out to be a good decision, as the crowd in our row was simply fun and so very sporting! I couldn't help laughing at their often funny remarks, even Loque and Emmet couldn't help it! Emmet was having lotsa fun too, clearly enjoying himself, he kept turning to face our row ! We were really touched too that Emmet acknowledged our clapping on 1000 Tahun Mahu Hidup, & asked the rest to follow ;-)
And how could we forget Merdeka? Gave me goosebumps! We were swaying and waving our hands ala tarian Melayu & Emmet played the violin on this one! Love the backing orchestra too from UiTM (Orkestra Gelombang Cuaca Buruk) And Shukri from ASK playing the ukulele, with backing piano, (by forgot his name aiyo), too bad Pak Kassim Masdor was not there to accompany them (but according to the Butters update on Facebook, Pak Kassim did call the band to wish them luck, sweet!)

It was brilliant of them to wear the baju Melayu for the encore! Wish I had snapped a pix of that, but Faz & Miele did! Too bad IB didn't allow picture/video taking even without flash sigh..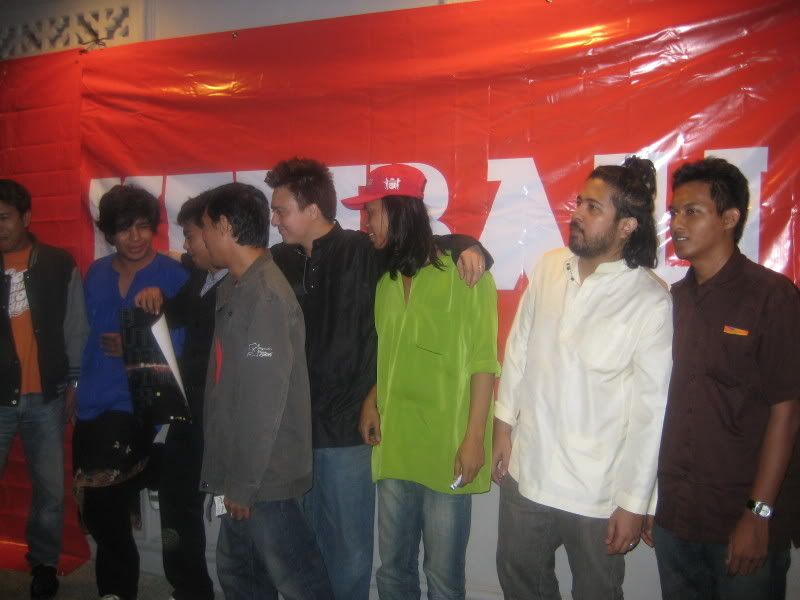 Butters in baju Melayu with fans :-) (Pix by Faz)
It was an emotional farewell, as Emmet would be flying back to Canada and Loque back to US (for his studies at Berkley), so it would be a while before the band would be performing together again. The crowd just couldn't get enough, were asking for more and chanting "Butterfingers Padu!!" But then it was really the end of the show (but not the end of the band).
To quote Faz : "It felt surreal to watch that much of Butters up close in the course of 2 days and I couldn't wait for the DVD to come out just to relieve the incredible moments at IB esp Merdeka!!"
Butterfingers are definitely padu!
Labels: Gigography